A few little things have changed here on my blog
She did a wonderful job, all in a timely manner and great with the communication. So, if you need something done, you should DEFINITELY contact her. And if you don't, then just go check out her blog.
Here's my new button....cute huh?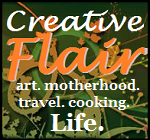 Go ahead and feel free to grab it for your blog,
I will forever be grateful. :)
I also have a new header, you probably won't notice the difference. It's subtle, but different. And matches the button.
Also, I had a cute little icon added to my blog title, Shell's idea.
And some other things moved and deleted.
She did a GREAT JOB! I highly recommend her for any of your blog makeovers of creations.
Thanks you so much Shell!

Oh, and the signature too!!